Website team and partners
The Age of Revolution programme content and web resource draws on expertise from a number of individuals and organisations including Culture24, which specialises in digital cultural publishing; the Historical Association and the University of Kent, while 38Digital built the website that houses the materials. Volunteer historians from Waterloo 200 also made a valuable contribution. Student ambassadors from the University of Kent supported our editorial team and continue to work on a range of related projects.
Our historical, museum education and digital learning leads, responsible for the educational strategy, production and authoring of the Age of Revolution collections content and educational materials are:
Anna Husband
Anna is our content overseer and writer, leading the selection of the objects, artworks and archive materials for our collection. Working with historical research from Ben, our volunteers and students from the University of Kent, Anna produced our suite of fascinating and easily accessible information for our Themes and Collection.
Anna is also our learning lead, creating our curriculum-linked Guides, Activities and Creative challenges and incorporating Enquiries from the Historical Association.
Anna has worked in cultural and heritage learning and interpretation for twenty years, managing, producing and evaluating digital and real world audience-focused provision.  After teaching in primary schools in Sussex, Anna worked in Learning teams at Brighton & Hove Museums and Galleries, and the London Transport Museum before joining the National Maritime Museum (NMM) as Head of Formal Learning.
As a consultant, Anna works closely with organisations to develop strategy and policy, manage projects and partnerships, and create activities and resources. She is particularly well known for working with children and young people and for curriculum-linked provision. Find out more on her website.
Anna is passionate about museums and galleries, and using their collections in creative ways to ignite imaginations, unlock hidden histories and enrich learning. For everyone.
Ben Marsh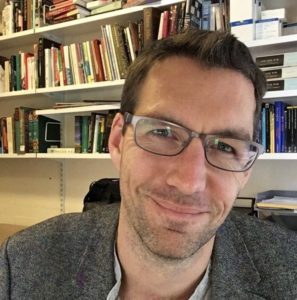 As the project's lead historian, Ben organised the complex and intertwined people, events, places and ideas of the Age of Revolution into our set of easily navigable Themes.
Ben advised on the latest historical research and thinking about the period, worked closely with Anna to source and select the objects, artworks and archive materials for our collection and oversaw the historical accuracy and rigour of our information.
Ben is a Senior Lecturer in History and Director of Public Engagement (Humanities) at the University of Kent, having previously taught at Brunel, Oxford, and Stirling universities. An expert on early American history and the American Revolution, he has taught about revolutions across numerous courses, and is a Senior Fellow of the Higher Education Academy and a Fellow of the Royal Historical Society.
In 2017 Ben co-edited with Mike Rapport a book on Understanding and Teaching the Age of Revolution (University of Wisconsin Press) aimed at refreshing pedagogy and connecting up the latest academic research with subject coverage in schools and colleges. He is passionate about the need for scholars, students, teachers, and heritage institutions to work together to make our history relevant to our future. He has worked extensively on initiatives with schools, museums, and educational heritage partners, including recently the Historical Association's Teacher Fellowship Scheme, Historic Royal Palaces' major exhibition Enlightened Princesses, and the educational podcaster Audiopi; he is an advisory member of the Citizens Project, the Canterbury Heritage Forum, and the Canterbury Historical Association.
Anra Kennedy
Anra led the overall creation of the website, from commissioning our culturally rich content to using the latest thinking in digital engagement to ensure its presentation in an inviting and easily useable form. As our digital and cultural lead, Anra has foregrounded the extraordinary variety and richness of museum and gallery collections from across the UK, extending their reach and connecting them with new audiences through our unique collection.
Anra is Content & Partnerships Director at Culture24. She works nationally and internationally to help museums and galleries connect with audiences online, leading and advising upon a wide range of publishing, audience engagement, education and research initiatives. Culture24's current publications include Museum Crush and Show Me, a website for children. Both sites focus on bringing museum collections to life.
In 2017-18 Anra delivered digital literacy and skills training to Greek museum professionals for the British Council's 'Transforming Future Museums' programme; lead digital awareness training for Heritage Lottery Fund staff CPD and programmed the 'Let's Get Real: Young Audiences' conference & TeachMeet on digital cultural learning & collections.
Anra's on the steering group of ArtUK, is a trustee of Kids in Museums and GEM (Group for Education in Museums), teaches 'Digital & Museums' modules for international museum practitioners for the University of British Columbia and is an alumnus of the 2017 'Museums Resilient Leadership' programme. She has been advising Waterloo 200 on digital and cultural education matters since 2013.
The Historical Association's Alf Wilkinson, a highly experienced history teacher, author and educational CPD specialist, created our historical enquiries.
Katie Hall, History education author, consultant, and lover of the Age of Revolution devised our medical enquiries.
Alison Groom has provided editorial and research support throughout this project. She has
aided in the development of the website whilst coordinating the student volunteers and working with them to upload our collection of objects. Alongside this she has worked with our partner museums to source objects and build our collection.
Having graduated from Goldsmiths College in 2016 Alison is currently working on an MA in Global History at Birkbeck, University of London. She specialises in European colonial history and the social implications of empire across the world. Within this she is particularly interested in medical and technological history and the developments which came to symbolise the Age of Revolution.
Alison became involved with Waterloo 200 through her work at Culture24 where she is primarily focused on their children's education site Show Me. Alison works to keep the site updated with objects, games and digital learning material from museums and galleries across the UK. Her interests in history and education through museum collections have been perfectly combined in this project.
Richard Moss and Kate McNab at Culture24 also provided extensive editorial and venue & listings support.
Our editorial and historical research volunteers:
The Age of Revolution web resource has benefitted greatly from the expertise and enthusiasm of many volunteers, as did its predecessor Waterloo200.org.
Michael Crumplin (FRCS Eng. and Ed.), FRHistS, FHS
Michael is a trustee of Waterloo 200 and coordinator of Waterloo 200's historical research volunteers. Of an army family and medical background, he was born in Scotland, educated at Wellington College and studied medicine at the Middlesex Hospital Medical School. He worked as a consultant upper gastrointestinal and general surgeon in North Wales, took interest in medical education and was Chair of the Court of Examiners at the Royal College of Surgeons. He worked a good deal with cancer and established an outpatient cancer unit at his hospital. He received an honorary FRCS from the Royal College of Surgeons of Edinburgh.
Before and after retirement, Michael took an interest in the human aspects of conflict. He has written five books which focus on medicine and surgery, in both the army and navy during the French wars (1792-1815). He now works on medical aspects of wars from 1759-2015. He has written five chapters, many articles and since 2000, delivered around 400 lectures. He was education lead for Waterloo200, the honorary treasurer and trustee for the Waterloo Association for 12 years. Since 2015, with the generous support of a local business man, he has donated his medical collection and set up a unique museum of surgery in the farm, used as the principal field hospital during the battle of Waterloo – at Mont St Jean.
Carole Divall – retired English teacher and experienced examiner, historian, lecturer, researcher and author with specialist knowledge of the British Army and research into same, sundry military personalities and various campaigns in the wars against Revolutionary and Napoleonic France. She has published works on sundry military campaigns, regimental histories and soldiers' lives, also on how to research military data.
Paul Brunyee – retired teacher, author and lecturer with experience of teaching students with learning disabilities and an interest in Napoleon's latter years and incarceration on St Helena. An interest in Napoleonic history and St Helena and also regimental histories and English literature.
Owen Davies – recent graduate in war studies and history from King's College, London. Also, researcher, lecturers, historian and student of conflict, both old and modern. Membership secretary of the Waterloo Association.
Dr Russ Foster – retired teacher, historian, researcher and author. Author and military historian on the life, legacy and history of the Duke of Wellington. Guides at an historical British site.
Gareth Glover – widely published author and editor of military historical material around the period 1790-1815. He is a lecturer, avid researcher, always keen to unearth new and previously unseen British data. He is an ex-Royal Naval officer, who has set up a battlefield tour company and lectures to varied audiences.
Jack Tracey – is currently studying for a Ph.D. in history under the supervision of Dr. Ben Marsh at the University of Kent. A
recipient of a CHASE scholarship and the University of Kent's 'Bolt' award, his research focuses on the experiences of British Loyalists in Georgia during the American Revolution. Jack has worked extensively in archives in both Britain and Georgia, presenting his work at the BAAS and BGEAH conferences. During his time at Kent, Jack has also taught on the American Revolution and the British Atlantic world (1580-1763).
From September to December 2017, Jack enjoyed a placement working at Culture 24 in their Brighton office. Working with museums, archives, and other partner institutions, Jack identified, sourced, and secured the use of objects for the Age of Revolutions project. Jack has since continued to work closely with Culture 24, leading a cohort of student volunteers to collate and upload the necessary information accompany object images for the project website.
Many thanks go to Jack and his fellow student ambassadors Kesia Wills, Megan King, Will Jarvis and Cassandra Barnard, for all of their help uploading our collection objects.